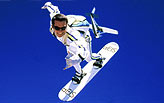 Slide show
Copyright Aerial Stunt Service

People come to skydiving for a variety of reasons; to face a fear of flying, to find a thrill, to explore something new, because it's on a list of things to do in life, or maybe to pay a drunken debt.

The easiest first jump is Tandem, harnessed to the front of your instructor. Its a great way to feel the rush of jumping out of an airplane, falling through the sky, and then gliding down under a parachute.

But there's so much more. More than you can imagine. An amazing adventure is waiting for you if you're willing to learn, willing to train, and willing to leap into the sky on your own.

New jumpers often refer to the experience as life transforming. The exhilaration and awe they feel, learning to fly through the sky, seems to filter into other areas of their life experience. Its a great feeling, empowering in a way, and the feeling draws them back for more.